ORGANISED MINIBUS TRANSFER - LIMO SERVIS:


Organised nonlinear minibus transfer – Limo servis:
BELGRADE – SZEGED – BELGRADE
(Via NOVI SAD and SUBOTICA)
Everyday departures
Our contact:
+381 11 2686 622
+381 65 2686 622
Viber
+ 381 65 2643 962
WhatsApp
+ 381 64 9722 449
From BELGRADE – any address
From NOVI SAD – "Stara lokomotiva"
From SUBOTICA -"Patria" Hotel
EVERY DAY – NONSTOP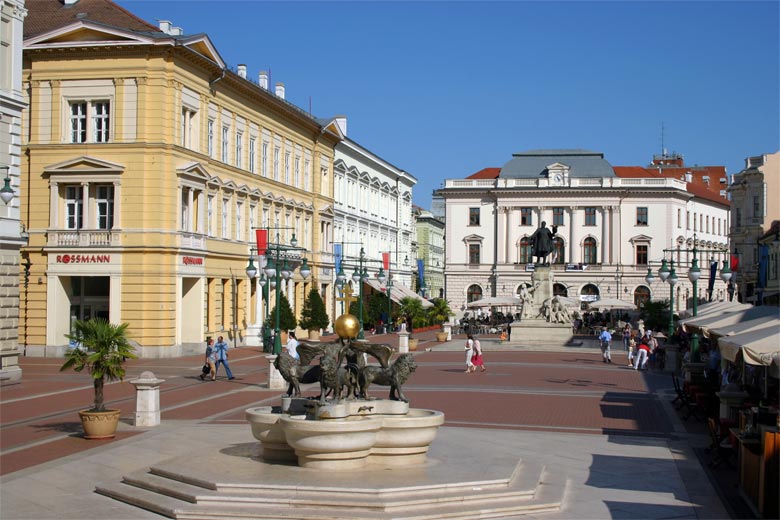 SZEGED
During the recent years, more and more people showed interest in visiting a very lovable and small town, located in the southern part of neighboring Hungary, near the border with Serbia, whenever they have a chance. Its name is Szeged. The fact that the famous shopping center Arkad is located here, many people will find the place as a synonym for a day well-spent shopping. However, since this place can offer much more than only affordable goods, we will take this opportunity and specify some of the things that will make you start thinking more intensively of paying, at least one visit to this lovely town.
Apart from fantastic stew and craft beer, it may be hard to believe, but there is the Museum of Salami and Paprika in Szeged! The Hungarians are famous for many things worldwide, but paprika and salami have a special place in their tradition and gastronomy, in fact, so special that they built a museum dedicated to this popular meat product as well as paprika. Vilmos Zsigmond, a Hungarian cinematographer and Oscar winner is the best example of the fact that the inhabitants of Szeged are very proud of their heritage. When Vilmos was asked about one thing he is most proud of in his country, he replied: "How can you ask me that? The answer is Pik salami and Szeged paprika, of course."
Next to this interesting museum, there is the Mora Ferenc Museum as well, famous for its golden collection that contains about 10 kg of pure gold; and one of the most valuable objects, the so-called Huns treasure (the golden artifacts of Nagyszéksos). The museum was founded in 1883 and most of the attention is paid to archaeology, ethnography, history and natural science.
Paprika that led to the Nobel Prize
Another place worth visiting in Szeged is the memorial room of Albert Szent-Györgyi, who started his research in Cambridge and later on continued at the Szeged University. He led the team that was credited for identifying hexuronic acid in paprika, and later isolated ascorbic acid (from the hexuronic acid), also known as the vitamin C. Albert won the Nobel Prize for his work and remained the only Hungarian scientist who has ever won this award until today.
There is also the New Synagogue built in 1903. The most beautiful part of the Synagogue is the dome front, which symbolizes the world; and the special reason for many people to come here is stained glass.
The inhabitants of Szeged are also proud of the small Bridge of Sighs. It is located near Szechenyi Square and connects two buildings of the City Hall. It was built in 1883 and according to history, the only reason for building the bridge was because Franz Josef insisted on not going out when visiting the freshly rebuilt head office of the City Hall in Szeged.
There is more that is interesting in Szeged to be discovered and visited. Therefore, take the first opportunity and visit Szeged for at least a weekend.
Gea tours transfer: Belgrade – Szeged, and Szeged – Belgrade
The minibus transfer to Szeged with several daily departures. If you travel from Belgrade to Szeged, our vehicle will be at any address that you provide. Also, if your place of departure is Novi Sad, the exact address of your departure is the "McDonald's" parking lot near "Stara lokomotiva"; from Subotica, the exact address of the departure is the Hotel "Patria" parking lot. If you travel from Szeged to Belgrade, we will come to any address that you provide.
Every day, we have several departures to Szeged and vice versa. The phone numbers for reservations to Szeged (and vice versa, from Szeged to Belgrade), can be found on our website page within the CONTACT section. We work 24 hours a day, 365 a year. Reservation can be made via e-mail.
Viber
+ 381 65 2643 962
WhatsApp
+ 381 64 9722 449
Kneza Miloša 65
Belgrade, Serbia
You can contact us 24 hours a day – 365 days within the year