ORGANISED MINIBUS TRANSFER - LIMO SERVIS:
BELGRADE – OLYMPIC REGION


Organised nonlinear minibus transfer – Limo servis:
BELGRADE – OLYMPIC REGION – BELGRADE
– It is not available until further notice –
Our contact:
+381 11 2686 622
+381 65 2686 622
Viber
+ 381 65 2643 962
WhatsApp
+ 381 64 9722 449
EVERY DAY IN SEASON – NONSTOP
If you wish, and announce that in time, Gea Tours can provide you with the children seat.
Children from 0 to 2 years old – gratis.
Children over 2 years old – full price of the ticket.
Children (who are less than 5 years old or 130 cm tall) must use the special seat.
According to Law, if the children (who are less than 18 years old) travel without the presence of  their parents, they must possess affidavit from both parents.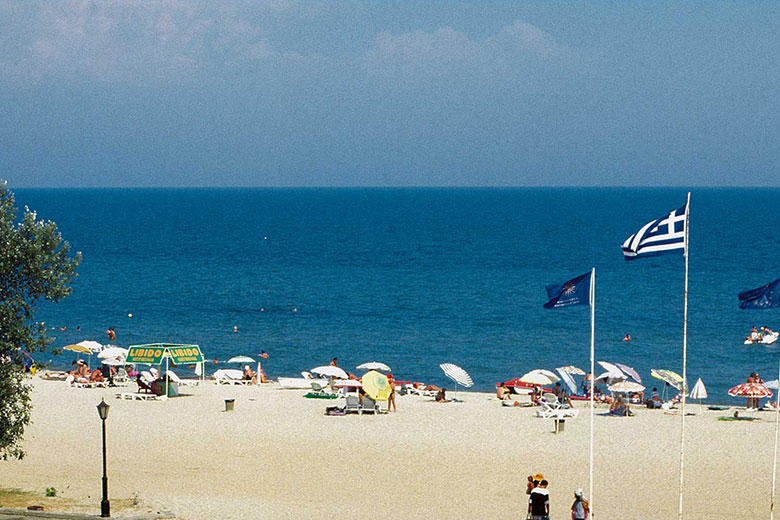 THE OLYMPIC REGION
With its capital – Thessaloniki, the Olympic Region represents one of the regional units in Greece. It is named after magnificent Mount Olympus which represents the symbol of both ancient and modern Greece. Every day, Olympus casts its shadow on the Olympic Riviera, and according to the tradition, it is regarded as the act of Gods house, giving its blessings to this area, so that it can welcome a happy new day.
The most famous seaside destinations of the Olympic Region are: Paralia, Olympic Beach, Nei Pori, Leptokarya and Platamonas. Paralia is the most visited seaside destination in Greece, especially among Serbian tourists. Paralia is also famous for its vast offer, and in that respect, clothes, perfumes, fur, jewelry, as well as the equipment for water sports can be bought here at very affordable prices.
Olympic Beach, located on the plinth of mystical Mount Olympus, is the second pearl of the Pieria district. The big sandy beach, surrounded by a park full of verdancy, will give you memorable moments of pastime and relaxation, both during the day and night. Olympic Beach and Paralia are connected by a nice promenade and 2 km long bicycle path along the beach, by which you will get one more possibility for visiting another attractive and dynamic touristic place.
The beaches
Beaches of the Olympic Region are about 10 km long, and the most famous ones are: Leptokarya, Korinos, Panteleymon, Platamonas and Paralia. Leptokarya is a place suitable for summer vacations, with population of about 5000 inhabitants, located on the shore with the very clean and very bright sea. The beach is sandy in its western part, while it is covered in sand and pebble in its eastern part. Nei Pori is the most southern place on the Olympic Riviera, primarily famous for its gorgeous, sandy, wide beach which spreads several kilometers in its length. This is a small, quiet touristic place, with wide streets, smaller promenade, shops, taverns and patisseries. It is primarily suitable for families with children and for the people who want a peaceful vacation.
If you spend your summer holiday in any of the places in the Olympic Region, then it is almost impossible for you not to visit the vivid small town of Katerini, which can be freely characterized as "Small Thessaloniki", which is also the capital of the whole Pieria regional unit. The population of Pieria is almost 60 000 inhabitants. Besides enjoyment in some of the beautiful cafés or restaurants, a special charm to this interesting place, located on the plinth of mystical Mount Olympus, is given by parks, among which the most beautiful is certainly the one in the city centre, and in which fountains, waterfalls and rich verdured areas are situated.
Consequently, we recommend you putting this, more than a vivid, destination on your seaside travel list, if you have not done it already, because it will make your trip so much worthwhile.
Belgrade – The Olympic Region with Gea Tours
We have daily minibus transfer: Belgrade – the Olympic Region. We have several departures every day, in both directions. Our vehicle comes to pick you up – from any address in Belgrade.
The phone numbers for the reservation to the Olympic Region (and vice versa, from the Olympic Region to Belgrade), can be found via our website page CONTACT. We work 24 hours a day, 365 days within the year. Reservations can be made via e-mail, also via our CONTACT page.
Viber
+ 381 65 2643 962
WhatsApp
+ 381 64 9722 449
Kneza Miloša 65
Belgrade, Serbia
You can contact us 24 hours a day – 365 days within the year